Language Level

A1

Grade

Grade 1, Grade 2, Grade 3

Unit

teaching in kindergarten and early grades in primary school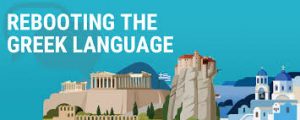 The Rebooting Greek Language series of mobile apps are made for beginner learners of Greek. These apps offer a culturally rich experience for young learners featuring the ability to learn and practise skills, earn rewards and track progress. These apps can be used both online and offline! There are no ads and are completely free!
This level targets children in the early years of elementary school. Taking into account the fact that these children already face the challenge of learning literacy for their first language, the 'Rebooting' application for this level focuses mainly on oral communication and introduces the Greek alphabet. Each module corresponds to a specific complex communication task, through which the learners proceed gradually.
Developed by the SNF Centre for Hellenic Studies New Media Lab (in association with Ready Labs Inc.) and supported by the Stavros Niarchos Foundation.