Language Level

A1, Preschool

Grade

Grade 1, Grade 2, Grade 3, Kindergarten

Unit

grammar, listening, reading, vocabulary, writing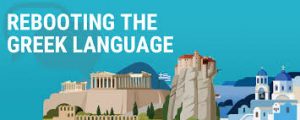 The Rebooting Greek Language series of mobile apps are made for beginner learners of Greek. These apps offer a culturally rich experience for young learners featuring the ability to learn and practise skills, earn rewards and track progress. These apps can be used both online and offline! There are no ads and are completely free!
The learning materials include small stories based on fairy tales and contemporary life, as well as simple songs that introduce the vocabulary for each module. Videos promote interaction, through repetition or music-kinetic activities that accompany the linguistic component, thereby reinforcing the retention of vocabulary. The stories are carefully animated, in order to provide visual reference for every language element. Songs use repetitive patterns and simple lyrics, to maximize their effectiveness as a study material. Major characters for the videos include fairy-tale figures and anthropomorphic animals.
Developed by the SNF Centre for Hellenic Studies New Media Lab (in association with Ready Labs Inc.) and supported by the Stavros Niarchos Foundation.