Language Level

A2, Adults, B1, B2, C1, C2, Educators

Grade

Grade 10, Grade 11, Grade 12, Grade 5, Grade 6, Grade 7, Grade 8, Grade 9

Unit

application, Greek history, March 25th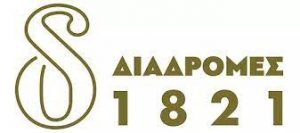 The Greek War of Independence is inextricably linked to the land of the Peloponnese. That is not surprising if we look back at all the events that took place on its mountains, cities and shores. How many of those numerous events are we actually familiar with? How many of their aspects have we been taught?
Those are only two of the questions at the root of DIADROMES-1821, a new, free application, which aims to point out landmarks in the Peloponnese, bearing a considerable role during the War of Independence.
Original and respectful, this application is the latest addition to the celebrations of the 200 years from the Greek War of Independence, with the kind support of the J.F. Kostopoulos Foundation.
Through the brief and concise audio clips, the goal of the application to reach out to an audience beyond history buffs and ideally be a tool in the hands of teachers, helping them make teaching history more appealing by pointing out its connection to the land.
DOWNLOAD THE FREE APP
Webpage : www.diadromes1821.org
Podcast : https://www.buzzsprout.com/1736290
Instagram: @diadromes21
The team behind the application
Christina Katsiadakis and Effie Skrobolas, the creative team behind DIADROMES-1821 have years of experience in the field of cinema. In 2017 they founded the production company Mitos Productions, based in Canada. Their ambition is to produce original works which will act as artistic bridges between the two countries.
Bio Christina Katsiadakis
Christina Katsiadakis was born in Athens and moved to Montreal in 2012. She holds a BA in History from the University of Athens and an MA in Film from Goldsmiths College, University of London. After her graduation, she began her career in film and TV production and collaborated on many productions, both Greek and international. She has written and directed 3 short films.
Βio Effie Skrobolas
Following the completion of her studies in Communication Studies at the University of Athens, she travelled to Canada to pursue an MA in Film Studies at the Université deMontréal. In 2005 she started her professional career in film next to producer Costas Lampropoulos. She is currently overseeing the development of all projects for View Master Films. She has completed the Maia Workshop Training Programme and the Sources 2 Projects and Process-Training the Mentors workshop.
CREATIVE TEAM
With the kind support of
The J.F. Kostopoulos Foundation