Language Level

Adults, B1, B2, C1, C2, Educators

Grade

Grade 10, Grade 11, Grade 12

Unit

Greek language, Greek language education in the diaspora, Greek literature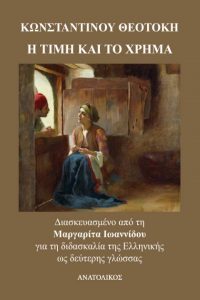 The author Margarita Ioannidou, published the work "Price and Money" by Konstantinos Theotokis in a simplified form, suitable for students learning Greek as a second / foreign language. The book is mainly suitable for an intermediate level of language learning (B1 – B2) according to the European Framework of Reference for Languages. The aim of the publication is to help students enjoy without much difficulty some of the most beautiful books of Greek literature, and at the same time to improve their Greek.
PREVIOUS EDITIONS:
"The Murderess" by Alexandros Papadiamantis (2020 Edition)
"The Merchants of the Nations" by Alexandros Papadiamantis (2019 Edition)
"The Only Journey of Life" by Georgios Vizyinos (2018 Edition)
"Who was the murderer of my brother" by Georgios Vizyinos (2017 Edition)
"Fairy Tale Without a Name" by Penelope Delta (2012 Edition)
All five books are also suitable for Greek language learners of the intermediate levels (B1 – B2). More information at ANATOLIKOS publications.