Event Details
Α series of online discussions and presentations about the evolution and consequences of the pandemic in Greece is conducted by diaNEOsis LIVE
The first diaNEOsis LIVE entitled "Greece After the Pandemic: Three Specialists Comment" will take place on Wednesday, April 15, 2020 at 17:00 (GREEK time).
Four additional online discussions on a variety of topics will take place in collaboration with EPLO Institute for Sustainable Development in collaboration with diaNEOsis Research and Policy Institute.
This is a series of webinar roundtable discussions on governance for social and environmental sustainability and the effects, expectations, and things to consider for the day after.
Roundtable 1 – Thursday 16 April, 17.00 (Athens time)
Loud Governments – Quiet Social Partners
What can be the role of Social Stakeholders and Civil Society during and after COVID-19?
Speakers: Mario Pezzini, Director of the OECD Development Centre. Andrea Renda, Senior Research Fellow and Head of Global Governance, Regulation, Innovation & Digital Economy of CEPS. Christos Alefantis, Editor in Chief of Shedia magazine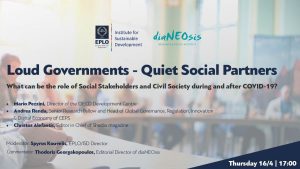 Apr 15, 2020 05:00 PM in Athens Apr 16, 2020 05:00 PM in Athens