Event Details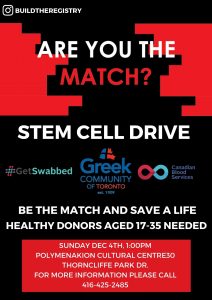 The Greek Community of Toronto is hosting a STEM CELL DRIVE
with Canadian Blood Services on Sunday December 4th, 2022
at the Polymenakion Cultural Centre at 1:00pm.
Stem cell donation is a life-saving treatment for those with certain blood disorders and can only be done when a match is found. This is much more likely from someone with the same ethnic ancestry.
Those of Hellenic background are underrepresented in the registry which is why it is important to have as many Greek donors as possible to sign.
Those at the event can provide more information and answer your questions, or you can call the main Greek Community of Toronto line at 416-425-2485.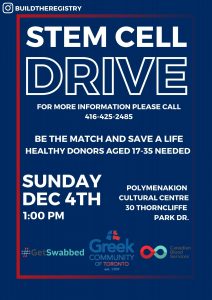 December 4th, 2022 at 1:00pm EST