Teloglion Foundation of Arts est. 1996. From the 10th of March 2023, online guided tours, free of charge, will be available via appointment for all Greek School Units abroad.
We are pleased to announce our new exhibitions at Teloglion Foundation of Arts A.U.Th., est. 1996. From the 10th of March 2023, online guided tours, free of charge, will be available via appointment for all Greek School Units abroad. Please find attached the descriptions (in both Greek and English) for the available exhibitions.
Teloglion, is a pioneer in education and lifelong learning. Ιn 1971, Aliki Teloglou and her husband Nestor decided to donate their great art collection as well as their property to the Aristotle University of Thessaloniki. Their main purpose was to establish a foundation where people, especially the youth, could find comfort and solace through art. After a while, the Teloglou couple made their irrevocable donation to the Aristotle University of Thessaloniki (A.U.Th.), with the aim to promote cultural heritage and art.
The Department of Education is fueled by continued research, aimed to broaden students' cultural, aesthetic, and artistic values via experimentation, creativity, and freedom of expression. All programs are structured based on experiential learning principles and are designed for adults, primary and secondary school students, as well as preschool children.
Teloglion has built a strong communication and educational policy and laid the foundations for strengthening the links between the museum, the school, and the public. All museum programs operate respecting children's personalities, in line with the official teaching curriculum, ensuring all students are exposed to the fundamental principles and terms defining a collection and a museum institution. Remarkable art workshops are also available, aiming to develop adults' artistic skills and art knowledge. In-depth Art History courses and drawing classes are offered by experienced associates in short or full-time sessions, focusing on a variety of topics and disciplines.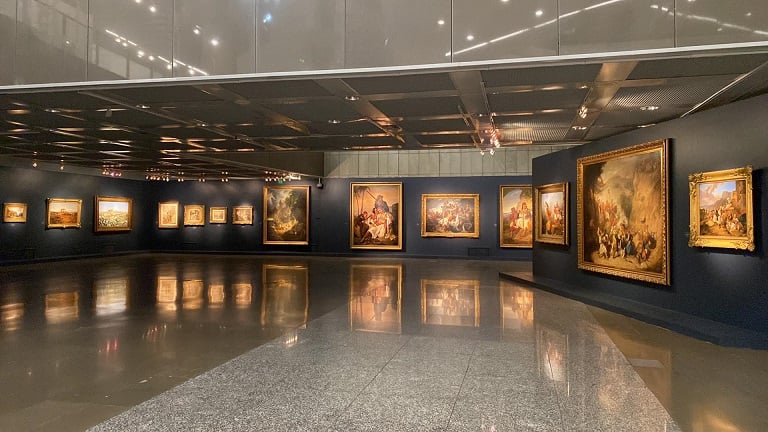 As an educational powerhouse, each year Teloglion museum designs a series of various educational programs based on its permanent and temporary exhibitions.
This year, we invite you to participate in live guided tours in either one or both of Teloglion's new exhibitions starting on the 10th of March 2023 (tour available in either Greek or English).
Explore learning opportunities via the arts, get to know our educational programs, and connect with the museum world in Greece. All guided tours are suitable for a wide range of ages and educational needs.
Please contact us at eduteloglion@gmail.com for further information or to book your appointment (Tuesday – Friday 09.00-16.00). Keep in mind that all virtual guided tours are conducted live, via google meet and the duration is approximately 90 minutes.
These online guided tours are free of charge, based on Teloglion's policy.